The village Dambitsch (Dabcze, Dabecz, Dambecz) is located in the Polish area Grand Poland called Wielkopolska, approximately 5 kms southeast of the county town Lissa (Leszno) and 3 kms north of the former Polish noble town Reisen (Rydzyna). The village is approximately 80 kms south of Posen (Poznan) and 90 kms northwest of Breslau (Wrocław).


Dambitsch is one of the 22 village units forming the community of Reisen (Rydzyna) having its own political head.The village is located in the county of Lissa (Leszno).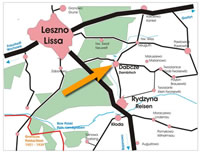 German settlers and religious refugees were invited from Polish nobles already in the 17th century to come into the area Wielkopolska. The location of the area at the border to Silesia brought many political changes during the past centuries: until 1793 the village belonged to the Polish area Grand Poland (Wielkopolska). From 1793 the village became Prussian by the Second Polish Partition. After the defeat of Prussia by Napoleon the area became part of the Grand Duchy of Warschau (Warszawa). 1815 the village became Prussian again after the defeat of Napoleon. In 1920 the village became Polish by the decisions of the Treaty of Versailles. The border between the German Reich and Poland ran at a distance of 15 kms from the village. The usual way of entrance to the village for Germans from the German Reich was via the meadows of the village Tharlang. 1939 the village again became part of Germany. Since 1945 the village is Polish. In 2005 there were 906 inhabitants in the village.
Please click on the map to get an enlarged view of the map!